Mindgrub All-Hands Virtual Happy Hour

Baltimore-based Mindgrub – the national technical agency and creative consultancy and leader in digital transformation – enacted a stay-at-home policy in mid-March, weeks before the statewide order went into effect.
But, that hasn't kept the company from staying connected virtually – maintaining its strong sense of community – continuing its work…and play. This is an exclusive look under the hood of what #TeamMindgrub is up to.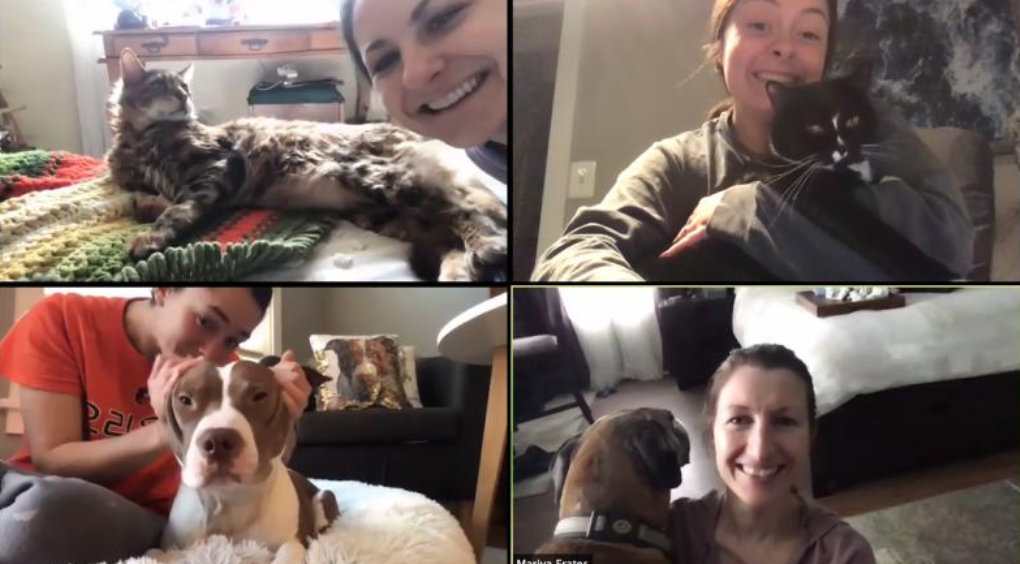 "Just like any other tech agency in a startup culture, we had a work-hard- play-hard 24/7 environment," says Vincent Sharps, Mindgrub's Chief Business Officer.
So, Mindgrub combined both in its virtual "All-Hands Happy Hour," March 31st.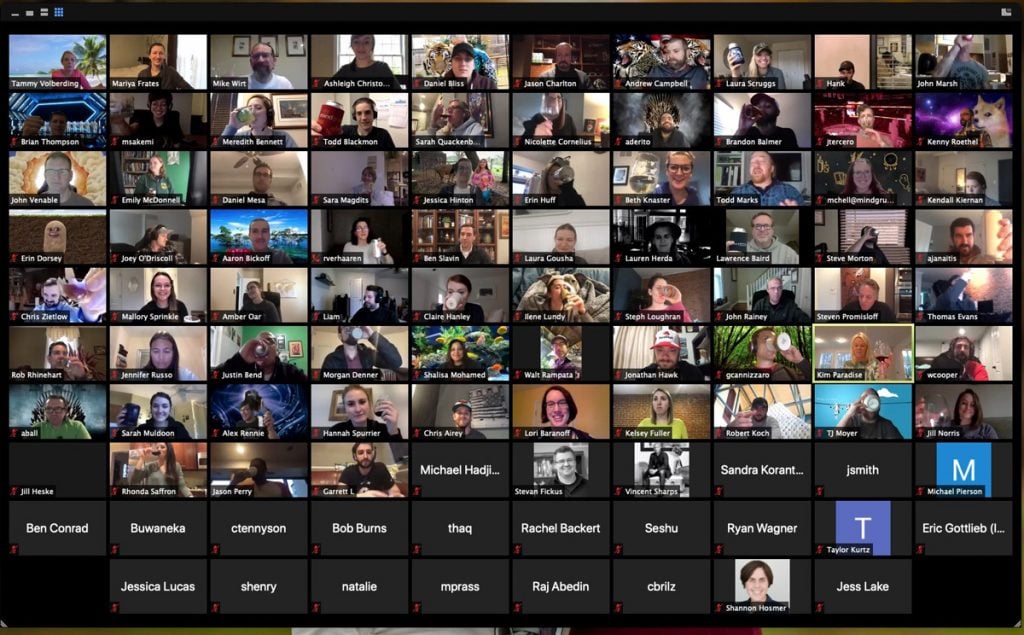 Todd Marks, Mindgrub founder/president/CEO kicked off the Zoom get-together, greeting the 100 Mindgrubbers who were there and congratulating the team on a seamless transition.
(:14 video below)
After the meeting and greeting – and the usual exchanges of "the roots in your beard are showing," "what a cool Zoom background you have," "have you seen 'Tiger King," and the ever-popular "what cocktail are you drinking," – Mindgrubbers got down to work, reviewing various projects and priorities.
Speaking of priorities, the top of Todd's agenda was emphasizing how important it is to maintain a balance between the professional and personal, especially given that working at home can eat into your "time off." He urged folks to take care of themselves and their loved ones, and maintain a good balance – to make sure they took enough time for themselves – particularly, given the fact that the current virtual work-from-home/stay-at-home environment will probably last weeks, if not months.
(:30 video below)
After reviewing the "work" side of company business, Mindgrub Fun Committee chair Marta Chell (a.k.a. Lead Project Manager) updated her colleagues on the various company clubs and activities that were all going virtual, including the exercise group, trivia night, and the new virtual beer club.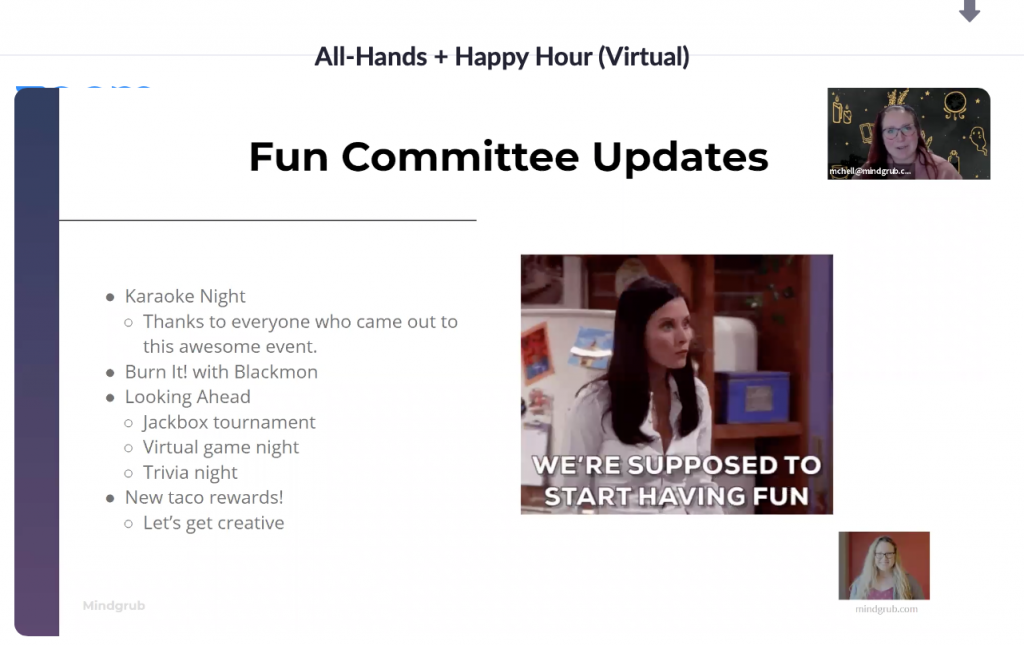 As the business meeting part of the evening wrapped up, Mindgrubbers who had birthdays in March were treated to a….ummmmm…special honor….
(:29 video below…enter at your own peril)
Then the true happy hour began with talk about facial hair, "man face," the art of creating your virtual backgrounds…
…and the cheesy charm of changing into a chatty Cheeto.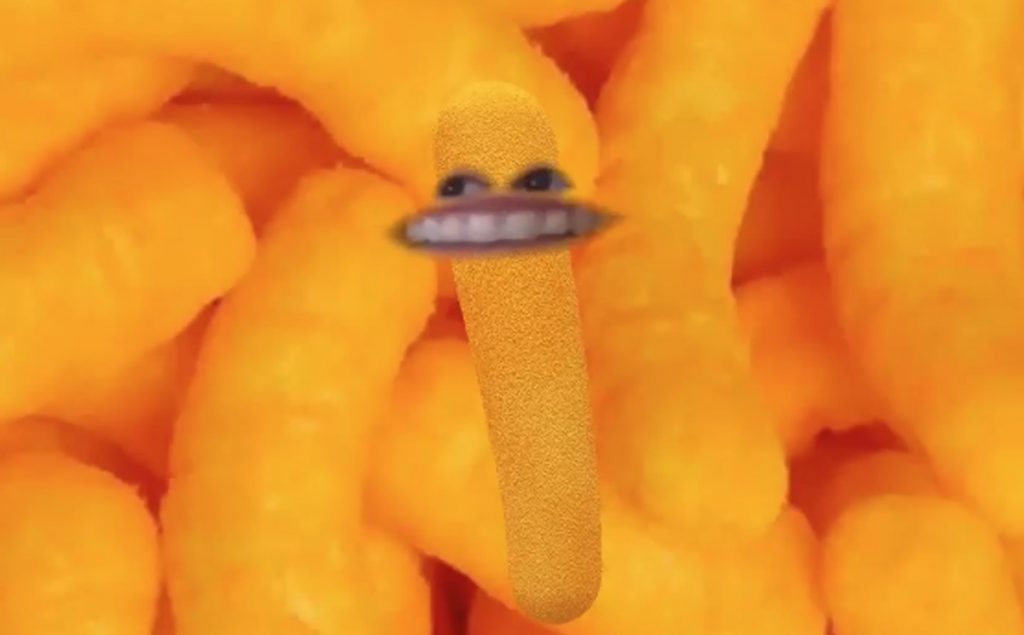 The evening ended with a bad joke contest (which you wouldn't want repeated here. Seriously.)
Mindgrub is an award-winning technology innovation agency that creates custom mobile, web, and digital marketing solutions for a variety of clients to bring their brands to digital.
Contact Mindgrub today if you need help with your company's digital transformation in these most disruptive of times.