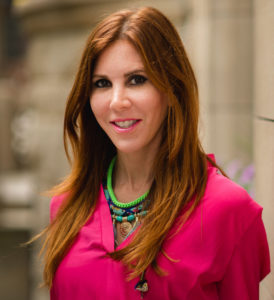 Elizabeth Massing
One look at Elizabeth Massing and you see her fabulous sense of style and artistic self-expression. She combines old and new, classic and trendy, luxurious items and vintage steals.  
"Fashion and what you wear should be a statement of who you are and how you feel. You shouldn't be scared to take risks. It should be fun and make you feel good, no matter your budget or fashion experience," she says. 
For Elizabeth, fashion is a way to tell her story.  
"I like my stories full of fun and excitement, history and romance, and - from time to time - a little drama. Bold fabrics give me a thrill. Couture makes me swoon. Daring pairings are a magnetic force I cannot overcome," says this B-more native. 
Elizabeth also loves to see the "stories" other people tell, which may come from her work in publishing and media as HR Director for The Agora Companies, where - she says - creativity and originality is always encouraged. 
Now, she'll be relaying some of those stories to us in her column, "The Haute Find."  
"It's about finding style on the street, in homes, and out-and-about. It's an adventure looking for textures, fabrics, and how people add layers of details and interest to their wardrobe." 
So, ramp it up, Baltimore. Maybe Elizabeth will be "telling" your story!